Abdelfattah El Ouaamari, PhD
Assistant Professor, Division of Endocrinology, Metabolism and Nutrition, Dept. of Medicine, RWJMS
Resident Scientist, Child Health Institute of NJ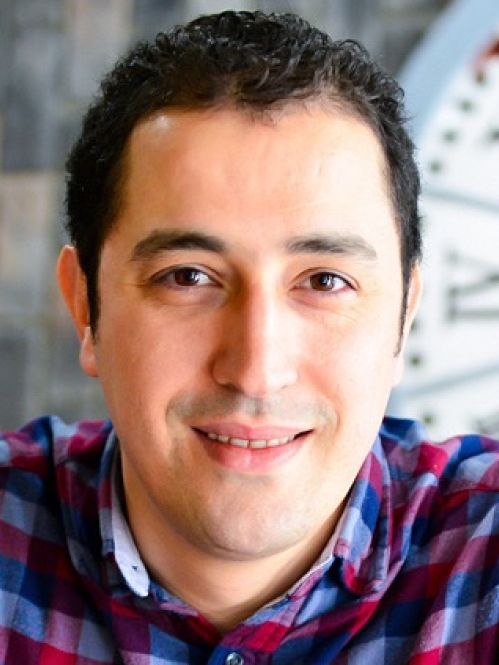 Biography
Abdelfattah El Ouaamari completed his undergraduate and graduate school at the University of Nice Sophia Antipolis in Nice, France. He earned a bachelor's degree in Biochemistry in 2003, a master's degree in Life Sciences and Health in 2005 and a doctoral degree in Aspects of Molecular and Cellular Biology in 2009.
Abdelfattah trained in the laboratory of Pr. Emmanuel Van Obberghen at the School of Medicine in Nice, where he studied the role of microRNAs in the regulation of insulin signaling in the pancreatic β cells. After completion of his doctoral studies, he moved to Boston in 2010 and joined the laboratory of Pr. Rohit N. Kulkarni at the Joslin Diabetes Center and Harvard Medical School for his postdoctoral training. During his fellowship, Abdelfattah had major interest in the role of organ crosstalk in adaptive islet β-cell regeneration in pre-diabetic states.
In March of 2017, Abdelfattah became an Assistant Professor in the Department of Medicine, Division of Endocrinology, Metabolism and Nutrition at Rutgers Robert Wood Johnson Medical School. He continues to study the role of inter-organ communications in glucose metabolism with an emphasis on the identification of molecular and cellular mechanisms promoting regeneration and function of islet insulin-producing β cells.
Research Interests
The El Ouaamari Lab employs a multidisciplinary approach to identify elements of organ cross-talks relevant to maintaining systemic glucose homeostasis. We are particularly interested in understanding how long-distanced organs communicate with the pancreas and modulate regeneration, survival and function of insulin-producing β cells—in health and diabetes. 
Research Summary
El Ouaamari Lab employs a multidisciplinary approach to understand how organs communicate with each other to maintain normoglycemia – with a particular emphasis on the quest for cells and molecules enabling regeneration, survival and function of pancreatic insulin-producing β cells. The current approach of the El Ouaamari Lab is to leverage the cutting-edge technologies in the neuroscience field to address important questions on how the central and peripheral nervous systems talk to and control adult pancreatic β cells. These studies are novel and timely and will unravel new targets to be harnessed for developing new neuromodulation-based therapeutic strategies for individuals with diabetes. 
Featured Publications
McEwan S, KwonH, Tahiri A, Shanmugarajah N, Cai W, KeJ, Huang T, BeltonA, SinghB, WangL, PangZ, DiriceE, EngelEA and El Ouaamari A. Deconstructing the Origins of Sexual Dimorphism in Sensory Modulation of Pancreatic β Cells. Molecular Metabolism. 2021; May 21; 53:101260. PMCID: PMC8258979
Bou Karam J, Cai W, Mohamed R, Huang T, Meng L, Homan EP,Dirice E, Kahn CR, El Ouaamari A. TRPV1 Neurons Regulate β-Cell Function in a Sex-Dependent Manner. Molecular Metabolism. 2018; Oct 5; 18:60-67. PMCID: PMC6308974
El Ouaamari A, O-Sullivan I, Shirakawa J, Basile G, Zhang W, Roger S, Thomou T, Xu S, Qiang G, Liew CW, Kulkarni RN, Unterman TG. Forkhead Box Protein O1 (FOXO1) Regulates Hepatic Serine Protease Inhibitor B1 (serpinB1) Expression in a Non-Cell-Autonomous Fashion. Journal of Biological Chemistry. 2019; Jan 18; 294(3):1059-1069. PMCID: PMC6341384
El Ouaamari A, Dirice E, Gedeon N, Hu J, Zhou JY, Shirakawa J, Hou L, Goodman J, Karampelias C, Qiang G, Boucher J, Martinez R, Gritsenko MA, De Jesus DF, Kahraman S, Bhatt S, Smith RD, Beer HD, Jungtrakoon P, Gong Y, Goldfine AB, Liew CW, Doria A, Andersson O, Qian WJ, Remold-O'Donnell E, Kulkarni RN. SerpinB1 Promotes Pancreatic β Cell Proliferation. Cell Metabolism. 2016; Jan 12; 23(1):194-205. PMCID: PMC4715773
El Ouaamari A, Kawamori D, Dirice E, Liew CW, Shadrach JL, Hu J, Katsuta H, Hollister-Lock J, Qian WJ, Wagers AJ, Kulkarni RN. Liver-derived Systemic Factors Drive β Cell Hyperplasia in Insulin-Resistant States. Cell Reports. 2013; Feb 21; 3(2):401-10. PMCID: PMC3655439